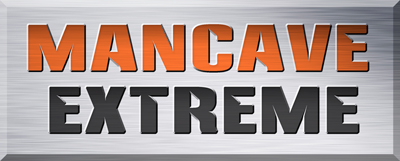 Mancave Extreme is a proud manufacturer of the USA and your one stop headquarters for all your aluminum and diamond plate accessories that will make you the envy of all you friends.

SPECIAL ANNOUNCEMENT COMING SOON !
Looking for a unique and special gift for the holiday? Hoppel Fabrication has been busy designing some new prototypes for our Mancave Extreme Product Line. We decided it was a good time to create some cool stuff that will give your cave that detail touch of appeal to express your own style. We are excited for the publics feedback and will be releasing info on our Facebook Hoppel Fab Business Page and our Hoppel Fab website as well. So make sure you check back the week of December 5, 2016 to view our initial product launch along with a special announcement you won't want to miss.
Let us help make your Mancave Merry AND Bright !
We will be offering products to help build your Mancave or add to your current theme and turn your manly space into a Kingdom with decor that fits your vision to give you the "Pop" you need for Game Rooms / Media Centers, Pool Rooms, Sport Shrines, Rock 'n' Roll Hangouts, Hot Rod Showcases, Garage Bars, Basement Breweries or even your Outdoor Kitchen.
No theme ? No Problem... We have you covered with base board moldings, crown molding, kick / push plates, window frames, picture frames, shelf units, TV stands / trays, pool table bar lights, refrigerator coverings, trash cans, clocks, wall tiles, and wall art just to name a few. Our products along with your creative imagination will give you the tools you need to decorate your private retreat into a true reflection of your own individual personality so you can sit back, enjoy and let it "shine".
We are not quite ready to present all our products just yet but.... STAY TUNED because you will not to miss out on our big reveal and it's coming soon !
In the meantime visit our other site at hoppelfab.com